lucath's DENEUVE CENTRE

BIOGRAPHY/NEW PROJECTS
EARLY FILMS 60s - 70s /
BRAND NEW FANTASTIC DEFINITIVE SITE! TOUT SUR DENEUVE.COM! ULTIMATE AUTHORITY!
ADVOCATE interviews HUNGER photos!
Thanks to Hans & Philippe - PHILIPPE'S DENEUVE@CANNES PAGE! The UNOFFICIAL CD PAGE CHANTAL'S WONDERFUL SITE! MIRIAM'S Swiss site!
Got a site? Join Yahoo Catherine Deneuve webring!


Deneuve/cult female site? Join the ring!
Catherine Deneuve MESSAGE BOARD


Filmography - A Life Time Achievement: 1970/2000
Forthcoming projects:
8 women/8 femmes - François Ozon - with Isabelle Huppert, Emmanuelle Béart, Virginie Ledoyen, Fanny Ardant, Danielle Darrieux, Firmine Richard, Ludivine Sagnier
Close to Heaven/Au plus près du Paradis - Tonie Marshall - with William Hurt, Hélène Fillières, Patrice Chéreau, Emmanuelle Devos
Last Napoleon, The (1999) .... Empress Eugenie
2001 Tom Thumb/Le Petit Poucet - Olivier Dahan - with Elodie Bouchez, Romane Bohringer, Samy Naceri, Benoït Magimel, Romain Duris
The Musketeer/D'Artagnan - Peter Hyams - Queen of France with Tim Roth, Stephen Rea, Mena Suvari , Justin Chambers
Je rentre à la maison/I'm going home (Vou para casa) - Manoel de Oliveira - Marguerite with Michel Piccoli, Antoine Chappey - Official Competition Cannes 2001
Absolutly Fabulous - Gabriel Aghion - herself with Josiane Balasko, Nathalie Baye, Jennifer Saunders, Jean Paul Gaultier
Nuages (Lettres à mon fils) - de Marion Hänsel - lectrice de la VF - Critic's week's selection at Cannes 2001
Von Trier's 100 øjne (documentary - Von Trier's 100 Eyes)
2000 Dancer in the Dark (by Lars Von Trier, with Jean-Marc Barr, Bjork, Stellan Skarsgard) - Supporting role
- Selected at Cannes Film festival / Golden Palm
1999 East-West (by Régis Wargnier, with Sandrine Bonnaire, Oleg Menchikov)
- Supporting role
- Oscar Nomination for Best Foreign Movie
Time Regained/Le Temps retrouvé (by Raoul Ruiz, with Emmanuelle Béart, Chiara Mastroïanni, Pascal Greggory, Elsa Zylberstein, Vincent Pérez)
- cinematography by Darius Khndji, based on a Marcel Proust's novel - Supporting role
- Selected at Cannes Film festival / Official Competition
Pola X (by Léos Carax, with Guillaume Depardieu)
- Supporting role
- Selected at Cannes Film festival / Official Competition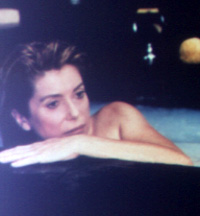 WONDERFUL WEBSITE!
The Wind of the night/Le Vent de la nuit (by Philippe Garrel, with Xavier Beauvois, Daniel Duval)
- Selected at Venice Film festival / Official Competition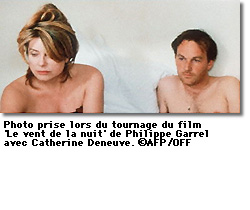 Stepmom/Belle-Maman (by Gabriel Aghion, with Vincent Lindon, Mathilde Seigner, Line Renaud, Stéphane Audran)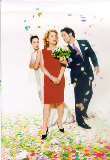 1998 Place Vendôme (by Nicole Garcia, with Jacques Dutronc, Emmanuelle Seigner, Jean-Pierre Bacri)Best Actress Award VENICE - Cesar nominated for Best Actress
1997 Genealogies of a crime/GENEALOGIES D'UN CRIME (by Raul Ruiz, with Michel Piccoli, Patrick Modiano, Melvil Poupaud) - Silver bear at Berlin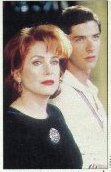 1996 Her name was Françoise, documentary with Patrick Modiano, Michael Caine. Published by Canal+ Editions.
L'inconnu (de Ismaël Ferroukhi) - short


Les Voleurs (Thieves!) (by André Téchiné, with Daniel Auteuil, Laurence Côte) - Cesar nomination for best actress
1995 101 nights/CENT ET UNE NUITS (by Agnès Varda, actor of a day with Robert De Niro)
The Convent/LE COUVENT (by Manuel de Oliveira, with John Malkovitch)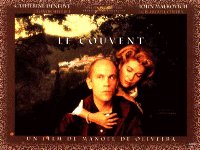 The Chess Game/LA PARTIE D'ESCHQUES (by Yves Hanchar, with Pierre Richard, Denis Lavant)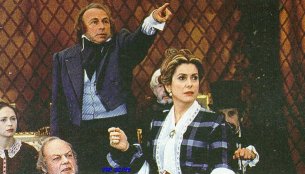 1993 Young Girls turn 25 - documentary by Agnès Varda
My Favourite Season/MA SAISON PREFEREE (by André Téchiné, with Daniel Auteuil, Marthe Villalonga) - Cannes Festival Opening night, Cesar nomination for best actress
1992 Indochine (by Régis Wargnier, with Jean Yanne, Dominique Blanc, Vincent Pérez) - Best Actress Cesar, Oscar nomination - Best Foreign Film Oscar, Golden Globe, Best Foreign Movie Goya (Spain)
1991 Against Oblivion - documentary sponsored by Amnesty international
The White Queen/LA REINE BLANCHE (by Jean-Loup Hubert, with Richard Bohringer, Bernard Giraudeau)
1989 Frames from the edge - Documentary about Fashion by Adrian Maben
1988 Fréquence Meurtre (by Élizabeth Rappeneau, with André Dussolier, Étienne Chicot)
1987 The Man Who Loved Zoos/Agent trouble (by Jean Pierre Mocky, with Pierre Arditi, Richard Bohringer, Tom Novembre, Dominique Lavanant, Kristin Scott-Thomas)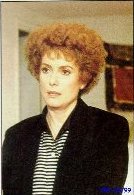 A Strange Place to meet/DROLE D'ENROITE POUR UNE RENCONTRE (by François Dupeyron, with Gérard Depardieu) - Co-Producer, Cesar nominations: actress...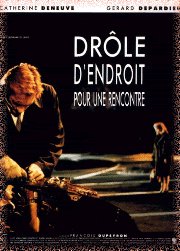 1986 Scene of the Crime/LE LIEU DU CRIME (by André Téchiné, with Victor Lanoux, Danielle Darrieux, Wadeck Stanczack) - Cesar nomination for best actress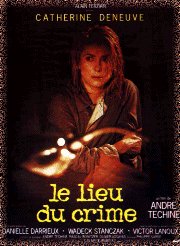 1985 Let's Hope! It's a girl/PORVU QUE CE SOIT UNE FILLE (by Mario Monicelli, with Bertrand Blier, Liv Ullman, Philippe Noiret)
Love songs/PAROLES ET MUSIQUES (by Elie Chouraqui, with Richard Anconina, Christophe Lambert, Charlotte Gainsbourg) PHOTOS!
1984 Le Bon plaisir (by Francis Girod, with Jean-Louis Trintignant, Michel Serrault)
Fort Saganne (by Alain Corneau, with Philippe Noiret, Gérard Depardieu, Sophie Marceau) - Cannes Festival Openning
1983 The African (by Philippe de Broca, with Philippe Noiret, Jean-François Balmer, Jacques François)
The Hunger (by Tony Scott, with Susan Sarandon, David Bowie)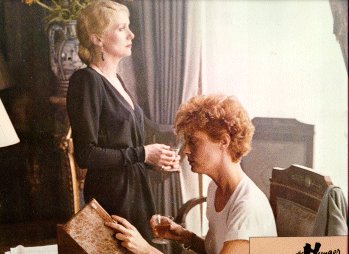 click the pic for HUNGER photos!
1982 Shock/LE CHOC - Contract in blood (with Alain Delon, Philippe Léotard) - second rôle

1981 Choice of Arms/CHOIX DES ARMES (by Alain Corneau, with Yves Montand, Gérard Depardieu)


Hôtel des Ameriques (by André Téchiné, with Patrick Dewaere)


Reporters - documentary by Raymond Depardon
1980 The Last Metro/LA DERNIER METRO (by François Truffaut, with Gérard Depardieu, Jean Poiret) - 10 Cesars including Best actress, Best Movie


I love you all/JE VOUS AIME (by Claude Berri, with Gérard Depardieu, Serge Gainsbourg, Jean-Louis Trintignant, Alain Souchon)
© Volute productions Thanks to ECRAN NOIR
email LUCATH in Wales for thousands of clippings and details of ALL videos!
DENEUVE biography & news

and
FILMS 1960s - 1970s!
---